If you are President of the United States, in the middle of tough campaign, and just had an even tougher debate-- what do you do to try to bounce back. Of course you try to associate yourself with things all of America love. So where did Obama go on Thursday- Madison, Wisconsin and the University of Wisconsin. And while there, he met with the Badger basketball team. As many of you are aware-- the Wisconsin Badgers are America's team. It will be interesting to see how big of a bump this creates in the polls.
On a more serious note, this is a neat story about how two players on the team worked to make this happen. One player a Republican from Iowa, and the other a Democrat from Chicago.
Badgers basketball team scores private audience with president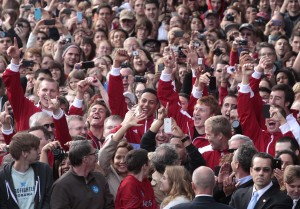 Meanwhile, redshirt freshman point guard George Marshall was working the phone. The Chicago native had some connections in his hometown and was in the process of putting the final touches on securing 16 VIP passes to President Barack Obama's campaign stop on the UW campus.
A few hours later, Marshall and his teammates were standing in a room at the Education Building on Bascom Hill as Obama walked in the door and made a motion like he was shooting a jump shot.
"It was really exciting," Marshall said.
Obama spent about 5 minutes talking to the Badgers and posed for a picture with the team. Junior forward Zach Bohannon was the first to approach the president and invited him to join the team for a pickup game; Obama declined, citing his tight schedule in Madison, but promised to return after the election was over.
Marshall said he was floored when Obama said how impressed he was by the Badgers' success on their home court and in the NCAA tournament. Later, senior guard Dan Fahey nervously asked the president for any advice he had to offer on the LSAT, which Fahey is scheduled to take on Saturday.
Bohannon had done most of the heavy lifting on setting up the meeting between the Badgers and Obama. Bohannon, who admits he leans to the right, used Twitter on Wednesday and Thursday to put a full-court press on Obama in an attempt to set up the aforementioned pickup game.
Some of the Badgers, as it turns out, often exchange in some spirited debates about politics. But it was time to put those differences aside, according to Bohannon.
"This is the President of the United States," said Bohannon, who sat out last season after transferring to UW from Air Force. "Republican or Democrat, conservative or liberal, you've just got to know that this is a once-in-a-lifetime opportunity.
"I had some friends at home (in Iowa) saying, 'What are you doing, Zach? Aren't you a die-hard Republican?' I said, 'Well, yeah. But I'm going to stay neutral until it comes time to vote."
Bohannon was convinced his efforts were going to be rewarded. His teammates weren't as confident.
"Once we got done lifting (Thursday morning), I went back to my phone and said, 'Guys, you might not believe this is going to happen, but seriously, this is going to be a once-in-a-lifetime opportunity," Bohannon said. "We're actually going to be able to meet the president. Everybody was like, 'OK, Zach, whatever.' "
That's where Marshall, who's probably the quietest player on the team, stepped in with an idea. Martin Nesbitt, one of Obama's good friends, was the assistant coach on Marshall's AAU team; Nesbitt's son, Alex, who now plays at Harvard, was also on the team.
"I came off real confident about it," Marshall said when asked if he really thought he could arrange the meeting with Obama, "but I just thought I could give it a try."
Marshall called his father, got Martin Nesbitt's number, and placed a call Thursday morning. Martin Nesbitt was in Denver with Obama at the time – the president was there for his Wednesday night debate with Republican challenger Mitt Romney – and thought Obama would be able to meet with the Badgers.
Nesbitt contacted a White House representative, who contacted Marshall to arrange the VIP passes.
Meanwhile, time was running out on the Badgers. Bohannon said it was about 12:45 p.m. when Marshall was making the arrangements.
"We're all supposedly getting ready for the hill and he has these VIP passes," Bohannon said. "We're all scrambling and it's like, 'Let's not go to the hill, we can't do this since we got these passes.' And then next thing we know, we've got (senior forward) Ryan Evans taking charge and telling (coach Bo Ryan), 'This is a once-in-a-lifetime opportunity, you've got to let us do this.'
"Finally, he's like, 'OK, have fun. Make sure the whole team goes.' The next thing we know, we have 16 backstage passes to meet with the president directly, all thanks to George."
Does Marshall, who's in the running to take over the starting point guard role, think he made some points with his teammates?
"Hopefully, I did," Marshall said. "But I just knew somebody that was close to him. I just gave it a try."
Jim Polzin
Jim Polzin covers the UW men's basketball team for the Wisconsin State Journal. The Clintonville native covered UW football for 13 years for The Capital Times and is the author of "Badgers by the Numbers," a book published in 2009 that profiles the best UW football player at each jersey number. Polzin lives in Sun Prairie with his wife, Molle, and their two sons.