The following is from college basketball writer, Andy Katz's blog....
A suspension, a financial hit and a firing would seem to be a pretty effective deterrent to misleading the NCAA enforcement staff and department superiors.
But the fallout that occurs when a staff is collectively penalized -- as was the case with Bruce Pearl and his assistants at Tennessee -- should be a major wakeup call, too. In a
recent story on CBSSports.com
, Gary Parrish detailed the bitterness and hard feelings that have developed among a group of Vol coaches that used to be considered tight-knit.
[+] Enlarge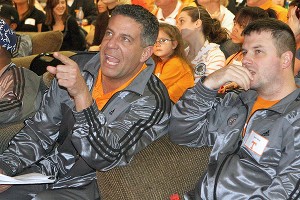 AP Photo/Lisa Norman-HudsonBruce Pearl and longtime assistant Jason Shay (right) have grown apart in the ugly aftermath of Tennessee's turmoil with the NCAA.
So as a loss of friendship is added to the list of consequences of breaking the rules, the law firm that represented former UT assistants Jason Shay, Steve Forbes and Tony Jones is using the Tennessee case as a course study on what not to do given how the Committee on Infractions is now handling cases.
The summary of the case came down to a 2008 photo from a cookout at Pearl's house that involved a few prospective student-athletes (one of which was Ohio State point guard Aaron Craft), which was a violation since juniors aren't allowed to have visits off campus. A photo of the event surfaced nearly two years later and when initially questioned about the photo and the cookout, the coaches didn't answer truthfully. There were impermissible calls as well and the end result was a three-year show-cause penalty for Pearl and one year each for the three assistants.
It was a devastating blow to all of their careers. Forbes is coaching junior college at Northwest Florida State and Shay is his assistant, making $20,000 a year. Jones, the interim coach at UT during Pearl's suspension last season, is coaching high school basketball in the Knoxville area. And while he is doing just fine financially, Pearl has essentially been banned from coaching in college for three years.
http://espn.go.com/mens-college-basketball/blog/_/name/katz_andy/id/7039161/lessons-learned-tennessee-fallout